Pricing
As a mobile reflexologist I can travel to you. I cover north Essex, i.e., Newport/ Saffron Walden/ Bishop's Stortford in the West to Halstead and neighbouring villages in the East. My standard treatment hours are 9am - 3pm, Monday to Friday but if you are unable to book during these times please enquire as I may be able to fit you in.
£38 - reflexology
A brief health/ well-being consultation will be conducted over the phone prior to the first session. Each treatment lasts between 50-55 minutes.

£42 - hot stone reflexology
This is a blended treatment incorporating hot stones with traditional reflexology techniques, lasting 50-55 minutes. A consultation will be carried out beforehand.

£16 - 22 for children's treatments
Shorter treatments are available for children. They can be between 30 - 40 minutes long. A child must be accompanied by a parent/ guardian.

£19 workplace treatments
Looking for a relaxing treatment during a day at work? I can come to your workplace and offer 30 minute treatments during your lunch break.

**Maximum distance covered is 20 miles radius (40 mile round trip). There is a £4 surcharge for any journeys between 25 - 40 miles return.**

Referrals
Receive £5 off your next treatment when you have referred someone who has subsequently booked an appointment.

To arrange an appointment either call Catherine on 07769 644530 or click here to book online.

Want to treat a friend or family member? Gift Vouchers are available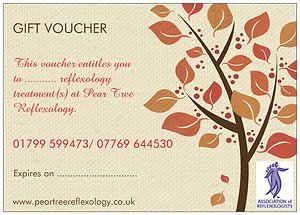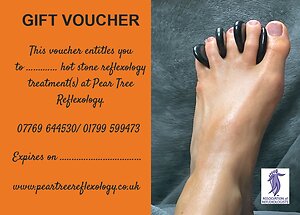 Cancellation policy: If you need to cancel your appointment, please kindly give at least 24 hours notice in advance of your appointment time. Late cancellations with less than 24 hours notice will be charged a cancellation fee (50% of treatment cost).

Of course life can be unpredictable and things can happen outside of our control so there may be occasions when a cancellation charge is not appropriate.
Contacting me
If you wish to make an enquiry/ appointment please either send a message via this webpage or call 07769 644530. Please be aware that if you send me any sensitive medical/health information, I will only hold and use this if we proceed to treatment. If we do not proceed to treatment I will erase this information.