What to expect
As a mobile reflexologist I will come to you. Before the appointment you might wish to think about where in your house you'd like it to take place, preferably somewhere that's distraction free. Do you want any background music? Would you like to light a candle? I have clients who employ the use of Alexa, some who listen to their e-books through headphones, whilst others enjoy a bit of silence. Some people like to chat, others use it as an opportunity to shut their eyes; I'll be completely led by you on this - this is your time.

On arrival I will set up my reclining chair which, even before I start working on your feet, you'll find incredibly relaxing and supportive. Then all you need to do is remove any shoes or socks, sit back and relax. Having carried out a full consultation to understand your medical history, general lifestyle and any presenting conditions beforehand I will use this information to tailor the treatment to your needs.

People find reflexology an enjoyable and deeply relaxing experience but there may be the occasional tender area indicating a reflexology imbalance. Working these may help to release tensions and restore the body's natural balance. Some clients see large changes from experiencing reflexology but it is a totally individual thing. The only way you can see if it works for you is to give it a go.

The treatment will last 50-55 minutes and at the end I will offer any aftercare advice relevant to you.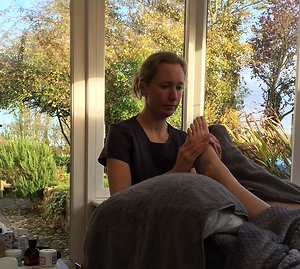 How often should I have reflexology?
If you are wanting to treat a specific condition it is advisable to have a course of treatments. A typical course is six weeks but it will depend on your situation as to how many treatments might work best for you. Reflexology can also be used as a one-off treatment for relaxation or monthly for maintenance. If you are unsure on how many to have please contact me to discuss further and I can advise you.